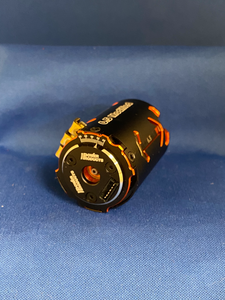 NOTE: Drag racing places extraordinary load on everything in your RC car. These are race motors; no warranty is available!
If you need help before you purchase, please send your questions to: info@teampowerproducts.com

NEW R5.1 Drag Series for 2.5t, 3.0t, and 3.5t motors: Click this LINK for this new series!
When buying these motors, there are more options to consider than other modified motors to help you with your initial setup. If you want a special timing set from settings below (must select Zero Degree Endbell option), please make a note when ordering:
Timing Setup
No Setup - Standard Endbell (minimum about 25 degrees)
No Prep - Zero Degree Endbell (minimum 0 Degrees) -  Initial Timing Set 18 degrees.
Prepared Track - 

Zero Degree Endbell (minimum 0 Degrees) -  Initial Timing Set 16 degrees.

 
Drag Car Other Options:

 Description
Image
R5 series Bearing

Dirt Cover

: This optional part removes the hole on the timing end, and shields the rear bearing of dirt and debris. Easy install. Must be removed for bearing lubrication (also easy). Two colors available (black & orange). Only one cover is included for the price.

 

Price is discounted

 

when purchased with motor!
High Velocity

Aluminum Cooling Fans

(two sizes: 30mm & 40mm) and many colors. These are my best and biggest selling fans. Keeping you motor cool will save money!

 

SAVE your motors! 

Discount price

 

when purchased with motor! Price is for one fan only.
Bob 'Bullet' Light Team Edition: All the R5 series Team builds will be dedicated to Bob Light and will have a special orange colored endbell as testimony to Bob's orange race cars, always with a large 'Number 1' on it! (see Bob's race career

 

HERE!) With a R5 series Team build, like for the R4 motors, there is included hand matched rotor/stator, close tolerance shimming of rotor to can, and custom timing. Then testing until it meets my specs! This upgrade uses premium steel bearings from NSK, unless ceramic bearings are selected (extra cost).

Ceramic bearings

is another option. Ceramic hybrid bearings need a lot of maintenance and are sensitive to dirt (meaning dirt will destroy these bearings quickly). If ordered with motor, they will be installed, and with a discount! NOTE: requires special tools to support can during removal and install. See blog about how TPP does it!
After more than a year of designing, testing, changes, and more testing, the R5 Pro Series modified motors are now ready to make your drag race experience  a winning one for 2021 and beyond! Check for details HERE!
Ordering Details:
The motors have premium NSK R2ZZ steel bearings: 3.125mm ID, 9.525mm OD, 3.967mm wide.
Timing set on all motors per option your select.
When ordering a motor, you must choose the rotor you want installed. The 12.5mm is the most versatile, with smooth torque and good RPM range. The 12.5mm rotor selection includes installation at no charge; includes expert shimming and timing is set. Other rotor sizes may be selected and installed; they are priced appropriately when chosen, includes free installation, expert shimming, and appropriate timing is set. Rotor details are

 

HERE!
If you choose an extra rotor (in addition to the installed rotor) with this order, it is has a 

discount price!

All motors come with new sensor cable, TPP decal, and Internet links to assist setup of the motor.