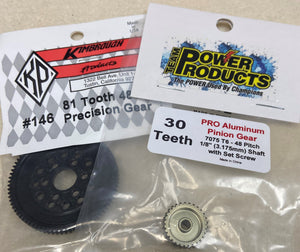 Team Power Products recommends and sells only the best. Kimbrough has been our choice of spur gears since the brushed motor days because of their concentricity and flatness, correct every time out of the package.
Our own lightweight hard anodized pinion gears are the perfect compliment. Buy with confidence for performance and durability, many racers do!
Buying from this page allows you to specify discounts based on quantity purchase. Save when you buy several pinions and/or spur gears at the same time!