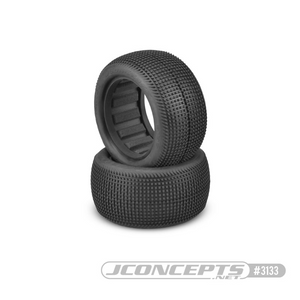 NOTE: I have a special shipping price for tires of $3.99 per entire tire order for economy shipping. When ordering tires do not add other items UNLESS the total will be over $125.00 or the special tire shipping rate will be affected. Make two orders to preserve special tire shipping rates.
Fits - 2.2" 1/10th buggy rear wheel

Includes Dirt-Tech closed cell inserts

Sold in pairs.
2024 RC Chili Bowl Classes:
Open Sprint

Masters Sprint

Street Stock
Return to Tire Assortment: Click Here
The Sprinter tire has square, angled pins that are stacked vertically to flex and fold evenly across the tire. Typically, a stacked tread will wear less and provide more forward bite while the aligned space helps rotation in the turns and gives a snappy release to square up quickly. Starting with the new tread, the team focused on durability and performance to bring a rear tire option to market that competes on loose surfaces which are wet or dusty.
Features:

JConcepts original tread, available in multiple compounds
Square, angled pins with horizontal traction bars
Angled outer sidewall pins for turn release
Conventional, 2.2" bead mounting size
Carefully shaped carcass = smooth driving characteristics 
Interior ribbing with double-hatch pattern
Includes Dirt-Tech closed cell inserts
Off-Road and Dirt-Oval racing ready