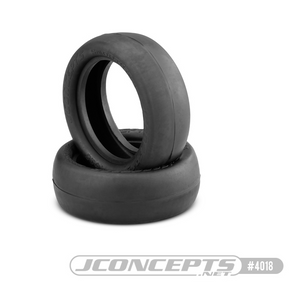 NOTE: I have a special shipping price for tires of $3.99 per entire tire order for economy shipping. When ordering tires do not add other items UNLESS the total will be over $125.00 or the special tire shipping rate will be affected. Make two orders to preserve special tire shipping rates.
All info from JConcepts HERE.
Fits - 2.2" buggy front wheel
Return to Tire Assortment: Click Here
In some conditions in oval and off-road racing, there is no denying that a slick tire is the fastest way around the track. Throughout the racing calendar year, there are several tracks where slicks in silver compound are the go-to tire are. Indoor and occasionally outdoor clay surfaces become so tacky or free of dust and debris that a total slick tire is an advantage. For years drivers have sanded, ground and hand sculpted tires in search of that elusive slick carcass, now, JConcepts has the Smoothie 2. 

Features:

JConcepts design and function




Thickened, Smoothie 2 concept




2.2" bead mounting size for compatibility




Carefully shaped carcass = rolling speed




Includes 2.2" Dirt-Tech (gray) inserts