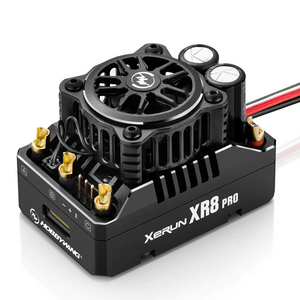 Hobbywing's newest update to economical 1/8th scale ESC with ability to deliver 200a of power! Replace your Hobbywing SCT ESC with this bad boy!
Find the details by clicking HERE!
What is in the box? 
(1) ESC
Ultra flex 11AMG wires (factory installed)
Factory decal 
Accesssories 
Bottomline:
The product features three common profiles that are suitable for all 1/8 Racing applications, allowing users to select and use them instantly. These profiles include Zero timing-Blinky mode, 1/8 Off-Road Racing mode, and 1/8 On-Road Racing mode.




XR8 PRO G3 ESC offers 32 built-in adjustable parameters, providing flexibility to meet various power requirements. These parameters can be easily imported and exported, facilitating communication and learning among drivers.




The ESC supports firmware upgrades, which can be done using the multi-function LCD G2 programming box, OTA Programmer, or Tunalyzer (available for purchase). This allows users to enjoy the latest functions and enhancements.




With the built-in switch mode BEC, the ESC provides a maximum output of 12A and allows adjustable voltage options of 6V or 7.4V. This flexibility is ideal for usage with servos and other devices that require different voltage levels.




The ESC includes a built-in reverse connection protection circuit, ensuring the ESC is protected from damage in case of reverse connection.




The ESC features a data logging function, allowing users to view various running data through the HW LINK app using the OTA Bluetooth module. This provides valuable insights and analysis for performance evaluation.