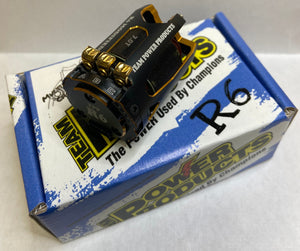 What does a Nathan Dean Team Edition upgrade do for the basic Team Power Product Motor?
Select this option with the motor(s) you are buying!
1. Stators are examined for the best average resistance for each coil. The overall average resistance as well as average inductance is also verified to be close to the legal minimum to assure ROAR compliance, if this will be used in a stock spec motor. In a modified motor, I find the lowest average resistance/inductance I have in stock for that wind.
2. I have hundreds of new rotors in my collection which have been examined and tested for a high magnetic field, external ID consistency, etc. I rate and sort these rotors by their magnetic field and physical properties.
3. After the two steps above are completed, I find stator and rotor combinations which allow me to place the rotor close to the timing board and still maintain the stator in the center of the rotor's field. This helps to maintain more accurate timing.
4. Careful assembly of the components is next.
5. Testing the results is the final step before going in the box. If I did a good job finding the right stator/rotor combo and shimmed the rotor correctly, you have a Team Motor. BUT in most cases, it requires a few assembly/disassembly steps to get it right, to get the torque I expect at the amperage and RPM.