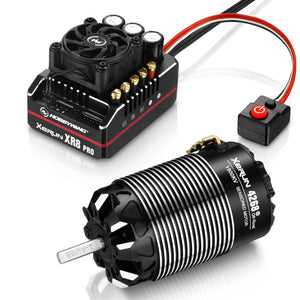 Xerun XR8 PRO ESC Combo (2S-4S) Make your 1/8th scale run smoothly and quickly! One motor and one ESC is included in the combo.
What's in the box? 
Combo Types
 p/n
Combo
ESC
Motor
Vehicle
Lipo

38020427

Combo 4268 A
XR8 PRO

Xerun 4268 SD G3 1900kv


1/8 OffRoad

2-4S

38020428

Combo 4268 B

XR8 

PRO

Xerun 4268 SD

 

G3

 

2200kv

1/8 OffRoad

2-4S

XR8 PLUS featured by the following elements:
Built-in 5 common profiles, suitable for all 1/8 Racing, select and use instantly. (e.g. Zero timing-Blinky mode, 1/8 Off-Road Racing, 1/8 On-Road Racing, 1/8 GT Racing, 1/8 Sport mode.
29 built-in adjustable parameters to set various power requirements.
The parameters can be imported and exported, which is convenient for drivers to communicate with and learn from each other.
Support the firmware upgrade of the ESC (The multi-function LCD programming box or OTA Programmer is needed to purchase). You can enjoy the latest functions.
Support 48 degrees Boost and Turbo timing.
When matching with XERUN 1/8 motor (G3 4268/4274) motor, the Max. Speed can be promoted by 50%, easily win your rival.
Multiple function: Low voltage protection, thermal protection of the ESC, motor and capacitor.
Built-in switch mode BEC with a maximum output of 15A and voltage adjustable from 6V to 8.4V (step: 0.1V) for usage with servos & other devices require different voltages.
The built-in reverse connection protection circuit of the ESC avoid the damage to the ESC due to reverse connection. The record function of off-line data can read the Max.
Temperature and RPM of the ESC and motor by HW Link (OTA Programmer

 

is needed to purchase), which is convenient for driver to analyze the running of the power system.
The record function of real-time data. Open this function by connecting the ESC with HW Link (OTA Programmer is needed to purchase) and mobile App can check throttle quantity, Voltage, Current, Temperature, RPM and other data in real time, and obtain the running status of the ESC and motor.
*The full-sensored running mode can only be realized when pairing this ESC with the 1/8th G3 sensored brushless motor or newer version
*The Turbo and Boost, "only" works with the Hobbywing E8th Scale , 42XX series of motors. Turbo and Boost, will not work with any other motors at this time. Engineering is currently working with our testers to confirm if this feature can be "unlocked" for a coming firmware update. At this time we do not have a firm eta for the update completion.